Show Dog for a Day

Clondike's cancer treatments had been going so well that the folks decided to enter her in Veterans Class at the 1999 National Specialty in Chicago. She was able to make the trip and showed (after a fashion), to a large crowd of enthusiastic fans. The 8:30 am ring time didn't suit her lifestyle and she did not show at her best (even considering neither dog nor handler had ever been in a point show before), but she looked fabulous thanks to a Friday evening grooming session with Dave Simon.



image by Tad Spencer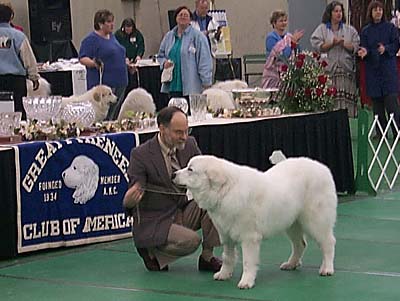 Stacking is not in Clondike's vocabulary.


photo by Tami McKenna


Clondike inspects judge's hands.


image by Tad Spencer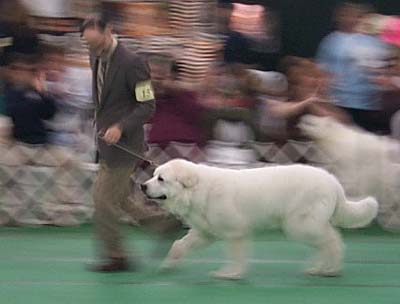 Fighting to stay awake, Clondike struts her stuff.


image by Tad Spencer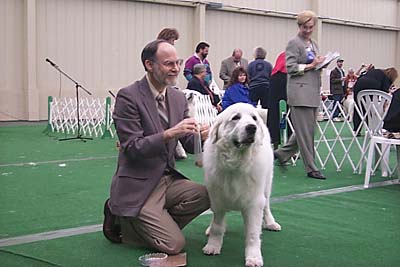 Proud Daddy gets a ribbon and Clondike grants a "photo op" for her fans.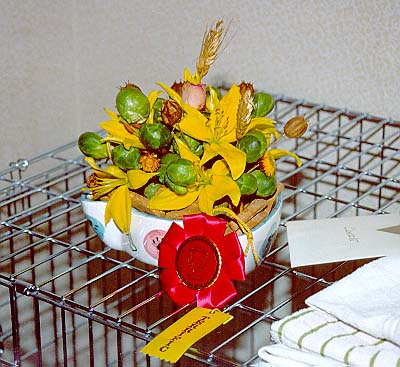 Tami McKenna commissioned this charming floral arrangment featuring
Clondike's favorite treat (and preferred bait), brussels sprouts.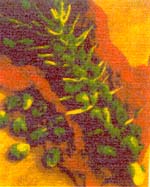 Clondike's many fans were easily identified by the lapel pins they wore,
sporting a brussels sprout motif, the creation of Marybeth Vaudrin.



---
| | | | | | | | | |
| --- | --- | --- | --- | --- | --- | --- | --- | --- |
| | | | | | | | | |
| --- | --- | --- | --- | --- | --- | --- | --- | --- |