Clondike's Barney Babe
Clondike Kintsfather usually prefers her men short, dark and handsome (an Australian Shepherd is her current main squeeze) but at the 1997 National Specialty in Frederick, MD she became quite enamoured of Barney Huggard, a young gentlePyr from Florida. This was especially surprising considering Clondike's reaction on first meeting Barney.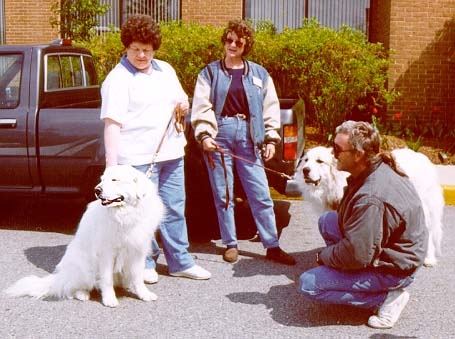 Clondike (left) was initially underwhelmed by Barney




Apparently, however, she warmed to him and attended the Pyrenees Ball on his arm. Penny found the photo below hidden under the mat in Clondike's car crate. On the back it says "Clondike- You'll always be my first love. Barney."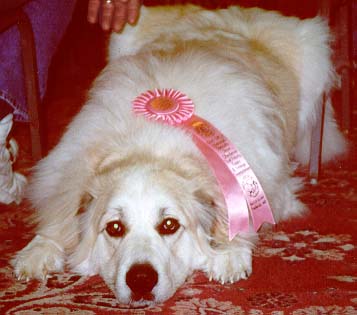 The ribbon is borrowed, but Barney was Clondike's choice for "Best in Show"



---
| | | | | | | | | |
| --- | --- | --- | --- | --- | --- | --- | --- | --- |
| | | | | | | | | |
| --- | --- | --- | --- | --- | --- | --- | --- | --- |