Around Dutchland, November, 2001
by Penny Pyrbred
It has been a very strange and sad time in Dutchland since our last issue. Penny extends her condolences to all who have lost loved ones or had their lives disarranged by the various terrorist attacks. One of the lesser consequences of these events was the cancellation of the November 11th Dog Lovers Holiday Bazaar, scheduled for the Philadelphia National Guard Armory, a place now needed for more serious activities. It was too late to find another venue, but we hope to participate again in 2002, as this has become an excellent event at which to educate the public about our breed.
TheraPyr Christy Skorup and her owner, Judy, are on a list of volunteers scheduled to help out at the Family Grieving Center in New York City in early November. Christy was also recognized in the Spring/Summer 2001 issue of the Therapy Dogs International Newsletter for completing more than 50 therapy visits. Another Penn-Dutch TheraPyr, Moira Kozemchak, and owner Bonnie are recognized in the same issue for completing a total of over 150 therapy visits, earning Moira TDI's Outstanding Working title! Penny is very proud of these true "working" dogs!
While on the subject of therapy Pyrs, we must mark the passing of Lillie Edinger, perhaps Penn-Dutch's first TheraPyr, and a role model for Clondike Kintsfather and many others to try this rewarding activity. In addition to her busy therapy schedule, Lillie often attended the Canine Learning Experience in Allentown and was always a big hit and a great promoter of our breed. In recent years she also seemed to be the designated gift examiner, assisting Santa with the gift exchange at the annual Penn-Dutch Holiday Party. She will be missed by Pyrs and people alike. We extend our sympathies to her family, who are receiving some comfort from a young gentlePyr named Chance, who Penny predicts will be quite a hunk in a year or two.
On September 15th Penn-Dutch again got to sponsor a GPCA Regional Specialty and it was great fun. Penny must admit to staying up a bit late the evening before, entertaining some of the out-of-town Pyrs and she managed to oversleep and miss the judging. The results are contained elsewhere in this issue, but we note that Pyrview's Last Resort owned by Jay and Annette Manwiller took Best of Opposite Sex in Sweeps and the Hoffmeiers' Achates Robbies Angel took Bred by Exhibitor Bitch in the regular classes.
The Tailgate Party was a huge success and Penny got to meet the handsome Chance Edinger and the beautiful Bonnie Ferrara. There were lots of food and fellowship and everyone encouraged Judy and Christy Skorup and Stephanie and Anais Whitney, Penn-Dutchies brave enough to compete in Obedience, which was held later in the afternoon.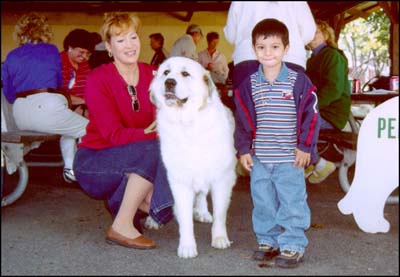 The Ferrara family enjoys the Penn-Dutch Tailgate Party.
In the evening, the Penn-Dutch people threw yet another party for our out-of-town guests at the show hotel. The highlight of the evening was when everyone had to play with all the cool accessories in Stephanie Unger's fancy new German car. Penny won't identify the person involved, but if you ever see a button in a new, luxury car with an icon on it that looks like a Milk Bone, DON'T push it unless you have an urgent need for an ON-Star operator to direct you to the nearest pet supply store. Penny suspects the operator could also enter your dog in the National Specialty.
October brought a pair of really wonderful Penn-Dutch events. On October 14th 25 Penn-Dutch Pyrs and their people participated in an All-Breed Rescue Fair at Peddlers' Village. It was a beautiful Fall day, and when given the opportunity to parade in the center ring, our Pyrs virtually filled the entire available space. We had a lot of fun while educating the public about Rescue. And quite a bit of education was in order. Coming so soon after the Sept. 11th disaster, many people assumed these were all "Search and Rescue" dogs.
Once the concept of dogs needing homes sunk in, people jumped to the conclusion that all the dogs participating in the event were available for adoption. While most of the participating Penn-Dutch Pyrs had been adopted through Rescue (and were identified with colorful ribbons), logistics prevented any of the Pyrs currently being fostered from attending. Since the Peddlers' Village attracts some very upscale shoppers, at least one Pyr owner offered to let a couple adopt her dogs if they'd take her as well.
photo by Joan Duffy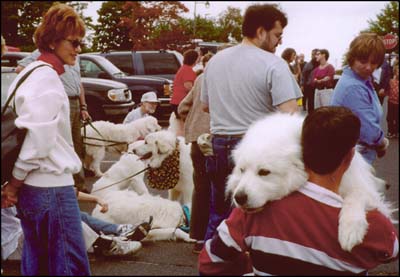 Penn-Dutchies and the public enjoyed Jane Gill's
Obedience Clinic at the Rescue Fair.
We identified four or five potential homes for Rescue Pyrs and made many more people aware that Rescue exists. We also had a grooming clinic by Jay and Annette Manwiller and an obedience clinic conducted by Jane Gill. Both our members and the general public seemed to appreciate the information. While many people helped out, special kudos go to Jack Witt for organizing and orchestrating this enjoyable and educational event. We hope to participate again next year.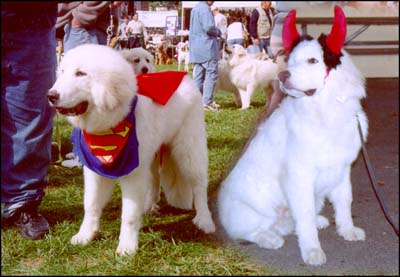 Mellow, Dog of Mystery--Super Dog at Rescue Fair, Devil Dog
at Penn-Dutch Tailgate Party.
The following weekend, October 20th, brought the ever-popular Fall Walk-in-the-Woods at Lake Nockamixon. Jeff and Napolean Bechtel hosted and some 30 Penn-Dutch Pyrs and their people enjoyed the beautiful Fall weather, the colorful setting, and some great food. While Penny didn't actually venture off into the "Woods," she did enjoy visiting with everyone at the picnic area. A great event, Jeff!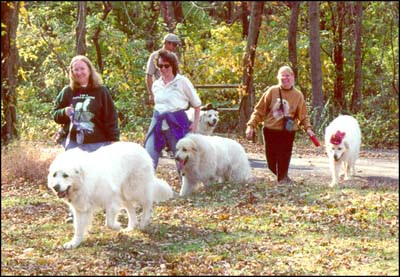 Anais Whitney, Pearl Osterman and Kayla and Brutus Gress
walk their people at Fall Walk-in-the-Woods.
October 27th brought the National Capital Area GPC Regional in Virginia where Gunner Migas (whose romantic dalliance with a certain bitch from Virginia had prevented his participation in the Penn-Dutch Regional) took Best Veteran in Sweeps, while Colby Manwiller took Winners Bitch.
Coming up we have the Holiday Party on Saturday, December 1st in the Meeting Room at the Leesport Farmers' Market. Because of the fiendish Chinese Gift Exchange this is an event that requires lots of Pyr supervision, so come out and bring your people. In the Penn-Dutch tradition there will be lots of food, a goodly portion of which will find its way into us Pyrs.
Ending on a sad note, we bid farewell to two more Penn-Dutch Pyrs, Majic Lamond and Bear Karlovich, both having gone to the Rainbow Bridge much too early. Majic was one of the most sensitive and obedient Pyrs Penny has ever met. He amazed everyone some years ago by completing a Pyr-only agility workshop entirely off-lead. He was a sweetie and a hunk and will be missed terribly by everyone who knew him.
Penny never met Bear Karlovich, but the Pyr-A-Scoop ran a feature on him in the April, 2001 issue and he seemed to be an exceptionally devoted companion and therapy Pyr. We extend our sympathy to the families of both of these magnificent Pyrs.
Bye for now. Penny hopes to see all the Penn-Dutchies at upcoming Club activities, and suggests that everyone take a Rescue Pyr to lunch. If you could manage several lunches and dinners, you may have what it takes to be a foster family, something we desperately need right now. Think of it as entertaining an extra white, fuzzy friend for a week or two.

---
| | | | | | | | | |
| --- | --- | --- | --- | --- | --- | --- | --- | --- |
| | | | | | | | | |
| --- | --- | --- | --- | --- | --- | --- | --- | --- |